SmartHeart Gold Cat 9 Cares 28 days challenges
SmartHeart Gold Cat 9 Cares 28 days challenges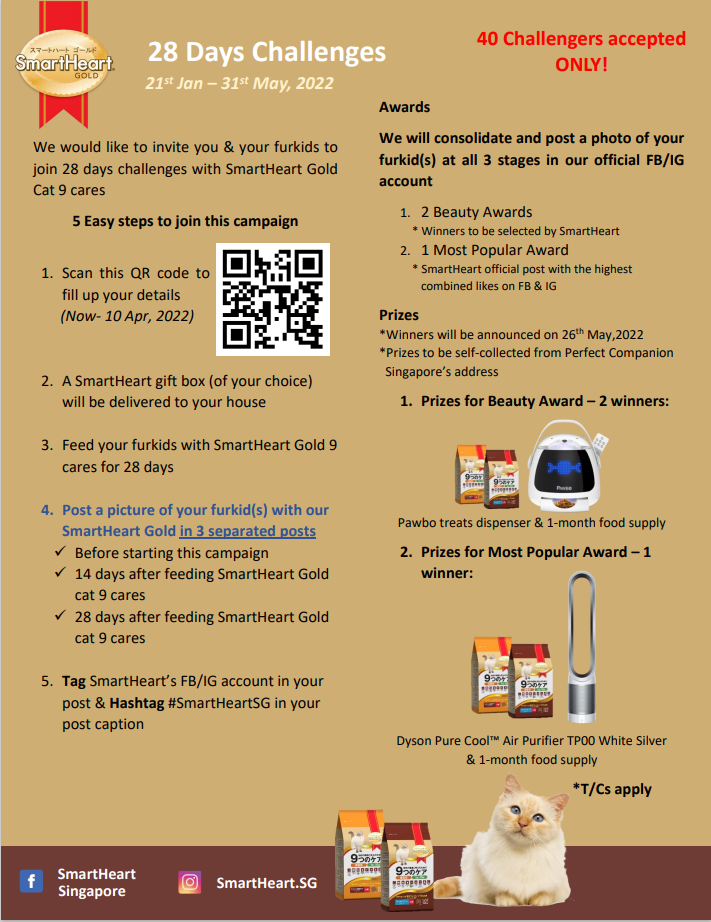 Join our SmartHeart Gold Cat 9 Cares 28 days challenges here: https://forms.gle/o8oPd7LsFDxSaCCJ7
Terms & Conditions
1.  This activity is open to all residents of Singapore who are cat owners and at least 13 years of age at the time of entry. Participants below the age of eighteen (18) are required to obtain written parental/guardian approval to take part in the activity, and to provide that to the Organizer on request.
2. This activity is not open to employees and immediate families of Perfect Companion Singapore Pte, Ltd., its associated agencies involved, distributors and trade retailers.
3. The activity starts on 21st of January and ends on 31st May, 2022. All submission must be submitted via DM by 23.59 pm on 15th of May 2022
4. Each Facebook/ Instagram user and/or household address is permitted to enter the activity only once during the activity period.
5. Only submission that fully comply with the mechanics of activity are eligible.
6. Perfect Companion Singapore will not be responsible if the gift sets are lost during the delivery, no replacement will be made for the lost items.
7. All redemptions are based on while stocks last basis.
8. Redemption items are not exchangeable for cash, credit or other items (including another redemption item) in part or in full.
9. Prizes to be self-collected from Perfect Companion Singapore Pte Ltd.'s office:  4012 Ang Mo Kio Ave 10 #04-14 Techplace 1 Singapore 569628 before 15th June 2022 during office hours: 9 am – 6 pm
10. Perfect Companion Singapore's decision in matters relating to this activity are final and binding. No correspondence will be entertained.
11. By taking part in this activity, you understand and accept without condition that Perfect Companion Singapore may elect to use your personal information provided for internal and/or external marketing purposes by mail/e-mail/phone/SMS whilst safeguarding your privacy or confidentiality with the highest priority.
12. This activity is for promotional purposes only and you accept that there is no intention to create legal relations between yourself and Perfect Companion Singapore